Dr. U. Schoop along with his colleagues developed equipment for producing coatings using molten metals and powders in the early 1900s. In 1912, with their efforts, the first solid metal nozzle tool or spray gun was created. A Spray gun is a simple device that is primarily used for coating both ferrous & nonferrous material. The vital applications of the spray gun are to restore worn-out components and provide anti-corrosion coating and conductivity. In this gun, the wire is fed into the front torch of the flame spray gun with the help of an air-driven turbine. Due to the flame combustion of fuel and oxygen, the wire is melted down and through the compressed air, molten metal is pushed outwards gently. Earlier this process was called metallization and presently this technique is called flame spray or oxyfuel.
Advantages of Wire Flame Spray Gun
Wire flame spray gun is used across diverse industries like aviation, automobile, electronics, electrical, and construction. The best thing about this flame spray process is that the coated element can be immediately used, as drying time is not required and even there is no risk of damaging the element. This spray gun finds great usage because of the following advantages:
It is easy-to-operate
Little operation training is required to operate the gun
This gun is cheaper than a powder gun because wires are cheaper than powder
This gun can be used even in areas that are not having an electricity supply
High deposit efficiency
Built-in pre-heating facility
Portable and hence is easy to carry
The spray gun can be performed manually, semi-automatically, or fully automatically if required. Some of the metals or metal alloys that can be used in the form of wire are copper, zinc, aluminium, brass, steel, nickel, and stainless steel. These wires are used for spraying in the thermal spray coating process. The molten spray deposit on the element's surface and solidifies to form a strong and dense coating to protect the element from corrosion. This field-portable flame spray system is effective in applying quality coatings for corrosion protection.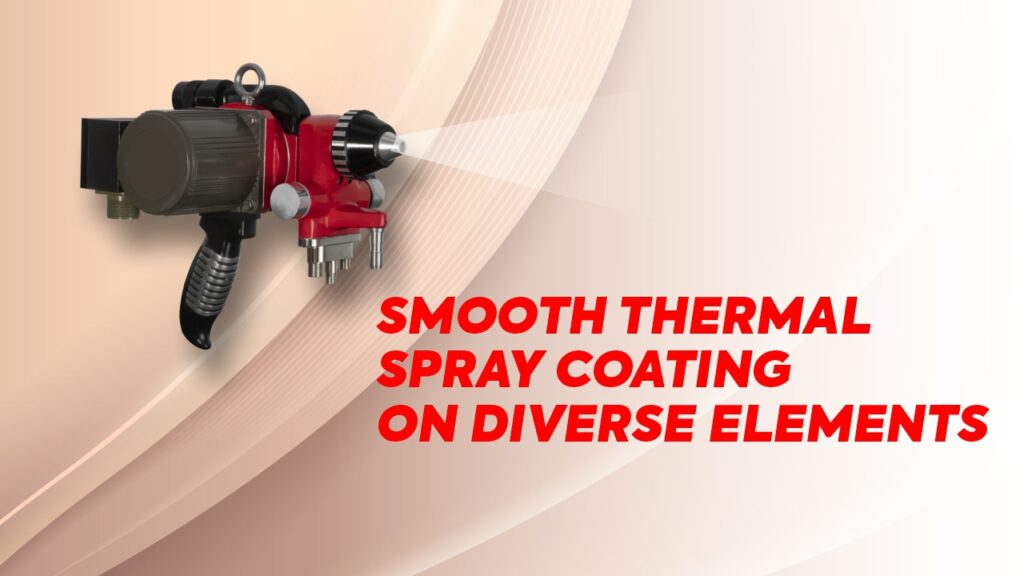 Applications of Wire Flame Spray Gun
The diverse applications of this gun include:
It is used with zinc and aluminium wire to carry out corrosion-resistant cathodic coatings
This gun is also used for plastic coatings on a variety of epoxy resins and thermoplastic.
It is used for metal powder coating and hot and cold spraying techniques.
It is also used to provide harder coatings for a high level of wear resistance
It is used to provide coatings on piston rings, synchromesh cones, and journals for hard bearing applications and is excellently resistant to adhesive wear.
It is also effective in providing a coating of diverse thickness
Components of Wire Flame Spray Gun
A wire flame spray gun is a robust metal spray system that is used for spraying or coating both ferrous and non-ferrous materials. The gun consists of a drive unit with a motor and drives rollers that feed the wire. It also comprises a gas nozzle, air cap, and a gas head with a valve to control the air of the flame and customization. Some of the vital components of a spray gun include:
Gas Flow Meter
Gas Control Unit
Air Control Unit
Wire Reel Stand
Hose Unit